UPDATE: MI CATS wasn't able to get inside the office but held a demonstration and rally outside the office, garnering support from passerby and calling Enbridge out on their bullshit!!  No arrests were made!  Meow!
Michigan Coalition Against Tar Sands "Give Thanks" to Enbridge at their Office in Marshall, MI
Airing their grievances and demanding they be addressed, MI CATS members held a demonstration at the Enbridge office in Marshall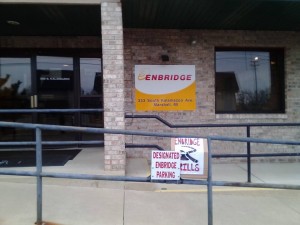 Marshall, Mich. — In solidarity with all those whose voices and experiences have been denied, folks with the Michigan Coalition Against Tar Sands (MI CATS) are visiting Enbridge, an energy company based in Calgary, Alberta, in their Marshall, MI office this morning to "give thanks" to Enbridge for all the damage and devastation they have caused.  MI CATS is maintaining a physical presence at the office while simultaneously generating phone calls to Enbridge, calling them out for the damage they have caused to communities worldwide.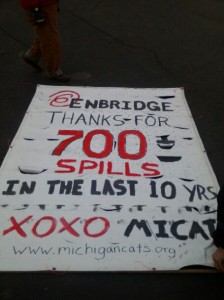 Among many things, MI CATS cited the 2010 Kalamazoo tar sands oil spill, which occurred despite years of warning signs of decay documented by Enbridge.  This spill was the largest inland oil spill in history and is still sickening and killing residents that live in communities along the river, a reality that Enbridge continuously denies.  The group also cited the this same pipeline and Enbridge's Line 5 tar sands pipeline, both whose capacity is currently being doubled despite Enbridge's horrible company track record of over 800 spills in the past decade.
"We are seeing the continuation of ongoing health issues. We are seeing health issues worsening and are still asking for health studies," says Marshall resident Michelle Barlond-Smith. Many residents impacted by the spill are wondering why Enbridge is allowed to build a new and larger pipeline while the oil from the 2010 spill is still far from cleaned up.
The Michigan Coalition Against Tar Sands stands in steadfast solidarity with all of the human and non-human residents of these affected communities as well as First Nations peoples who have been victims to Enbridge's predatory business plans since their inception.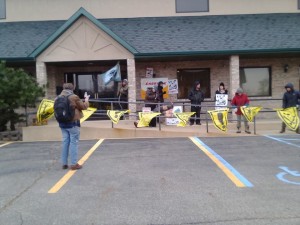 During a time when folks are giving thanks for family and food, MI CATS took action today to recognize all of the death and destruction dealt to communities and ecosystems worldwide by Enbridge. Furthermore, we are "giving thanks" to acknowledge the failure of state and federal agencies to hold Enbridge accountable for the irresponsible and catastrophic actions.
The Michigan Coalition Against Tar Sands (MI CATS) seeks to unite the people of Michigan towards a common goal of stopping all transportation and refining of tar sands oil in the state and advocating against the production/transportation of tar sands everywhere.