The community of zipcode 48217 is surrounded by heavy industry, led by the recently expanded Marathon Oil Refinery, and including Severstal Steel, Detroit Edison Coal Plant, U.S. Steel, U.S. Gypsum, and the Detroit Wastewater Plant.  It is the most polluted zipcode in Michigan and the third most polluted zipcode in the nation.  The city of Detroit is at the heart of this industrial mess and absorbs all of the costs yet none of the benefits of the industrial complex that uses Detroit as a dumping ground.  Silenced, ignored, and disregarded by decision-makers and regulatory bodies, this community is a classic example of environmental injustice and racism.
Perhaps most iconic in the struggle of 48217 is Detroit's petroleum coke piles, piled over three stories high on the Detroit River's edge.  Petroleum coke, or petcoke, is a waste product of tar sands refinement and is almost completely pure carbon.  The petroleum coke piles along the Detroit river are owned by Koch Carbon, subsidary of the infamous profiteers Charles and David Koch who are primarily selling the petcoke to China where it is burned for fuel.
Residents of Detroit and 48217 are no strangers to such exploitation.  For years, Marathon Oil has been poisoning the community.  At times, up to twenty toxic gases including hydrogen-sulfur have been identified emanating from people's homes.  Fugitive dust from the petcoke piles blow into the community, creating debilitating health issues.  Heavy industry has coerced many residents into signing non-disclosure agreements, forbidding them from speaking out about how they have been affected by industry pollution.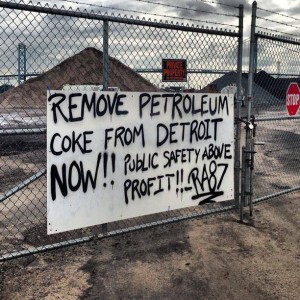 MI CATS and its Detroit branch DCATS (Detroit Coalition Against Tar Sands) believe that no community should suffer and be sickened at the hands of industry.  We seek to draw issues of environmental injustice and racism into the public narrative, exposing the corruption and complicity of industry and regulatory bodies in the perpetuation of tar sands crimes.