Update 1:30 PM- one of our friends just terminated her Chase account! On her birthday, no less! 🙂 Check out her testimonial below.
Update 1:00 PM- The fast and occupation is still ongoing! Jessica (AKA Felix) is fasting in jail today in solidarity with this action. Don't forget to send her a letter while she's in jail until May 11!
Jessica Clark
809 State Street Suite 201A
La Porte, IN 46350
Update 11:18 AM- You can watch through the Livestream link! Speakers happening now.
Dave Gallagher, landowner who's had intrusive Enbridge construction on 3 sides of his house for several months now, speaks out:

Video streaming by Ustream
Paul Clements, running for US Senate, discusses Chase bank (starts at 50 seconds):

Video streaming by Ustream
Earth Day Update 12 AM– our encampment has just begun!
***
We're calling for a 24-hour fast and occupation on Tuesday, April 22nd, in front of Chase bank in downtown Kalamazoo. Why? Because JP Morgan Chase owns 4.66 million shares in Enbridge Energy, the company responsible for the July 2010 spill of diluted bitumen into Talmadge Creek which led to the shutdown of 40 miles of the Kalamazoo River and which still hasn't been cleaned up to this day.

This Earth Day, we'll be occupying the public space outside of Chase Bank to bring attention to Enbridge, and companies that invest in Enbridge, to make people aware of who's invested in the irreversible devastation of Kalamazoo's land and water. Four years later, the Kalamazoo river is still not clean and not even safe enough to swim in. Why haven't we driven JP Morgan Chase, Morgan Stanley, and Enbridge out of Kalamazoo by now? They are not welcome here.
Though in the spirit of giving credit where it's due, in recognizing that things aren't always black and white, we'd like to recognize a seemingly good thing that Chase has recently done: a few days ago JP Morgan Chase announced that it'll be updating its environmental policy and ending financial relationships with companies engaged in mountaintop removal for coal mining. Not too little too late, an important step in the right direction. But Chase is still, by and large, invested in the environmental devastation of Kalamazoo and many other communities dealing with unwelcome tar sands exploitation, as well as the planet at large due to the threat tar sands and other forms of extreme energy extraction pose to the global climate.
We invite anyone with a reason to be against Chase, of which there are (still) many, to join us.
This protest will run all day and night on April 22nd, from midnight to midnight, and will be at 141 E Michigan Ave, Kalamazoo, MI. Protestors will be camped out in tents and will be publicly sleeping on the sidewalk. Signs and symbols will adorn the space surrounding Chase bank.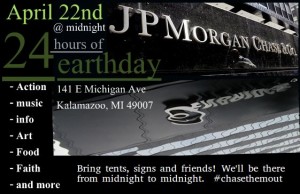 This Earth Day, and beyond, we'll also be calling on the city council to enact a ban on swimming in the Kalamazoo river. The EPA says the water is safe to swim in, but they've been saying that for years, and it's just not true. The EPA will happily place Enbridge's reputation over and above the safety of Kalamazoo's children and families. We can't let them risk people's health and safety, and demand a ban on swimming in the Kalamazoo river.
Events scheduled throughout the day include speakouts, press conferences, dance and song performances, and an interfaith candlelight vigil. Additionally, elected officials will be invited to speak. More information on the occupation will be available as April 22nd draws near. But don't wait for more news from us! We could use all the help we can get– get involved! Email micats@riseup.net to connect with us.
Stay tuned as well for the word on solidarity occupations occurring at other Chase banks near you!