Enbridge held an invite only meeting with landowners, "stakeholders" and others living in direct vicinity of the proposed dredge site. Instead of clear cutting trees before receiving the green light from the Comstock Zoning Board of Appeals, as happened last summer, Enbridge sent Richard Adams, Enbridge Senior Vice President of U.S. Operations from  Deluth Minnesota to "educate the people nearby about the process of dredging."
While educating the community and asking permission before beginning construction is a step in the right direction, this environmentalist is hopeful that people who live nearest to the site, and folks from all around the Kalamazoo River basin do their own homework to get all of the facts before deciding rather than drinking Enbridge's industry-infused, corexit-denying perspective blindly.
Outdoor enthusiasts and concerned residents have been finding tar balls – chemical formations – all around the river. These formations are composed of diluted bitumen (tar sands), chemical dispersants (some form of Corexit), other chemicals that are required to make the viscous crude oil flow, and organic materials.  Enbridge denies that dispersants were ever used  in the river. Craig Ritter has been finding these formations all over the river bed, from Talmadge Creek all the way to Lake Michigan. Tar balls crumble when pressure is applied to them. This brittle, soft texture makes dredging specifically dangerous. When broken up, the chemicals and tar sands go back into the atmosphere they crumble into (water, air, etc).
Below is an excerpt from Michael Toledano's expositional article.
Community member "Craig Ritter continued to explore the Kalamazoo, a series of unlikely discoveries turned this hearsay into evidence. When the river was re-opened, Ritter said he "started seeing some fish and thought I would start fishing again. And I got in there, wading the river, doing what I normally do, and I happened to walk on top of one of these rocks, and it crumbled." The crumbled rock was, in fact, not a rock, but a semi-porous ball of rock and tar which released an oily sheen if pressed or crumbled. Following this initial discovery, Ritter found many more of these tar balls lining the floor of the Kalamazoo riverbed.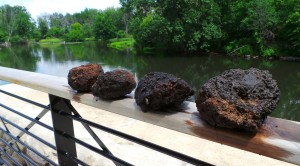 After sending photos of his tar balls to the EPA, and receiving no response, Ritter raised funds from a Michigan doctor to have his discovery independently tested. He sent a tar ball, a water column sample, and a sample of the diluted bitumen taken on the second day of the spill to ACT laboratories in Alabama, where they were analyzed by chemist Robert Naman. The tests confirmed that the oil in the tar ball was the same oil released three years earlier, but also determined that compounds in the tar balls contained "chemical degradation products that were consistent with surfactant use." Naman's report concludes that, "it is blatantly obvious that surfactants were used as well in the Kalamazoo River spill of 2010 and the resulting compounds present mimic those formed and still present in the areas affected by the BP oil spill of 2010."
Richard Adams, and the rest of Enbridge, it's time that you halt expansion of pipeline 6B and the Alberta Clipper until you clean up all of the crude oil, tar balls and chemical remnants in the Kalamazoo River basin, without rupturing tar balls.
Come out and stand in favor of the river at the Comstock Public Hearing Monday, March 17th at Niko's Landing at 5852 King Highway, Kalamazoo, MI 49048, in Comstock Charter Township.