The global movements for a just and resilient future build community power and momentum by the day. With every ecological devastation, we the people are resisting and rising. With every community displaced or exploited in the name of growth & "development" that only benefits a few, neighbors and communities are connecting and awakening to their power. For everyone and everything hurt by the economic and dirty energy systems that value profit over life, we the people are rising. Peacefully, passionately, powerfully.
The MI CATS have been honored to learn, resist, love, and serve this movement alongside so many amazing folks like you. From skateboarding into pipes to tree-sits to the jailing of the #MICATS3, you could say we've fallen (or willingly jumped) many times this past year and we're proud to say we have indeed always landed on our feet.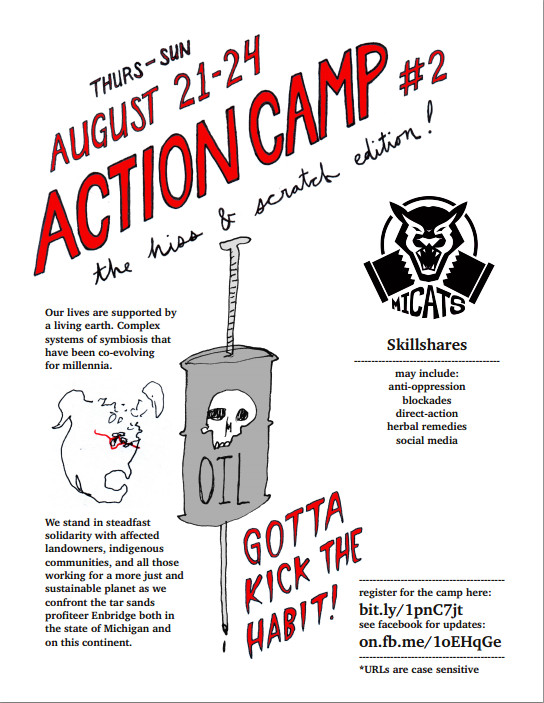 And that's why, in solidarity with all those fighting for a more just world, we're hosting another action camp this summer from August 21 – August 24 in so-called "Pure Michigan"!  We're inviting anyone and everyone to come out, learn, share, and grow alongside us! We can all be the "cat's pajamas"!
All ages, abilities, beliefs, ethnicities, identities, and backgrounds are welcome!
Seize this moment with us to strengthen and amplify the local roots of peaceful resistance to dirty energy. Click Here to Get Registered & MI CATS organizers will follow up with you to share more info. including the location in Michigan.  
We're excited to see you!