Yesterday, Michigan Coalition Against Tar Sands partnered with the Kalamazoo Peace Center and Students for Sustainable Earth of Western Michigan University. We demonstrated downtown Kalamazoo against colonialism, Line 9, tar sands and  climate change denier Fred Upton. This rally was held in solidarity with all of the people and creatures who will endure destruction due to the expansion of Enbridge Line 9. Line 9 attaches to line 6B and is a threat to the Great Lakes. Enbridge recently received approval from the Canadian Government to reverse line 9 and increase its capacity, despite a lack of public input. and already documented leaks in the line. If reversed, line 9 will connect Michigan's tar sands pipelines (and the Alberta Clipper project) to pipelines on the east coast of the US, ultimately allowing Enrbridge to export tar sands internationally through Maine.The connection MI-CATS feel to the communities on the other side of the boarder is beyond the shared danger that is the black vein pipelines threatening all of us. We are connected in our resistance, and our necessity to protect the water and the Great Lakes for future generations.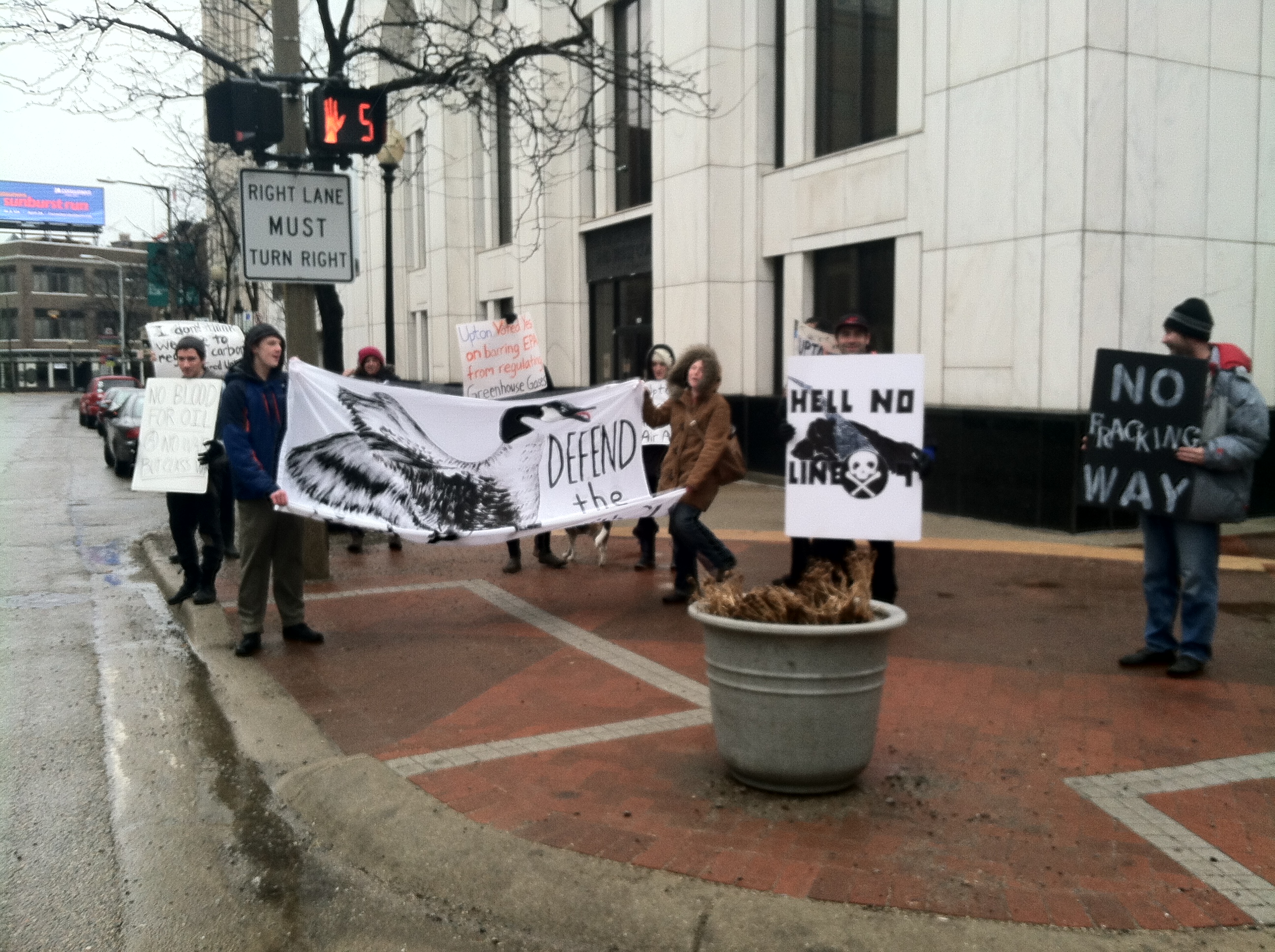 Folks rallied downtown Kalamazoo in an effort to raise awareness about Line 9 expansion. We yelled in solidarity with those resisting the pipeline. We also sent a clear message to Congressional pushover Fred Upton. He used to recognize climate change as a real, human influenced phenomena. His $elective memory about it's existence it is unacceptable.
We marched around the block to Morgan Stanley, international investment firm. They market themselves as a "socially responsible" investment firm. However, Morgan Stanley owns 1.62 M shares in Enbridge which totals 48.33 million dollars. Enbridge is not a socially responsible company. A Mi-CATS creech shared about Line 9's campaign to stop the approval of the reversal of Line 9, the smothering of democratic channels to make change, the lack of a full Environmental Assessment (all freakishly similar to the years leading up to line 6B's expansion). They also spoke about the strong resistance to expansion through the Swamp Line 9 Campaign. They spoke about colonialism, and the proliferation of colonialism thanks to harsh extraction industries. Corporations like Enbridge attempting to to turn communities into sacrefice zones must stop!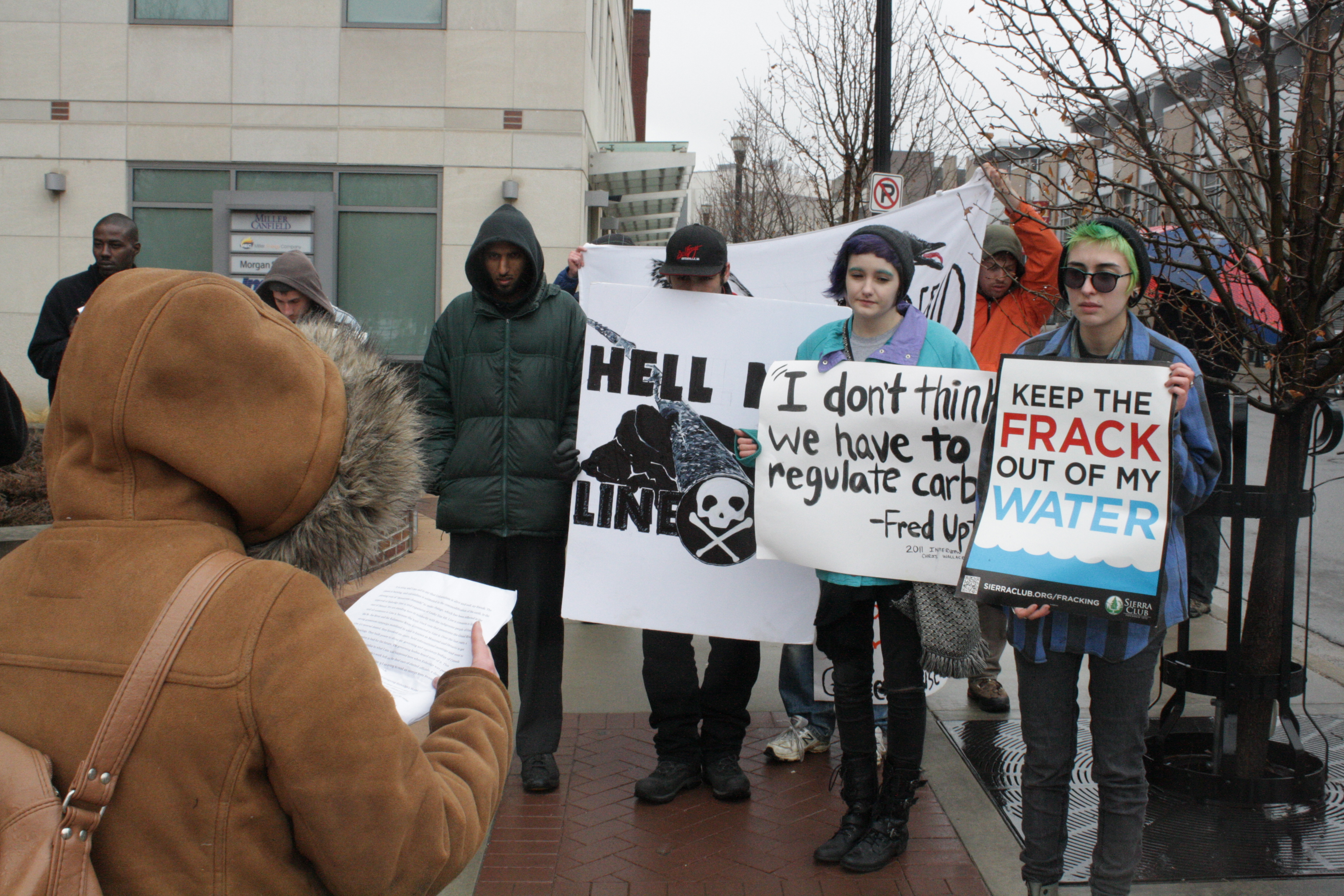 Fax your disappointment with Morgan Stanley's investment in Enbridge to (269) 373-2640.
Next the rally marched into Fred Upton's office. We were met by three Kalamazoo Public Safety officers and Lynne Turner, Upton's receptionist. We requested to speak with Fred Upton. The police told us we had to leave, that we were not allowed to protest inside and that we were trespassing. We informed them we just wanted to speak with the Congressional Representative. Ms. Turner informed us that he was not present. We shared our anger with Upton's newfound skeptical perspective on climate change We gently notified Ms. Turner that he ought to reflect on his status as "one of the biggest threats to planet Earth on planet Earth."

Folks left the building peacefully followed by the cops, and went on with our days.