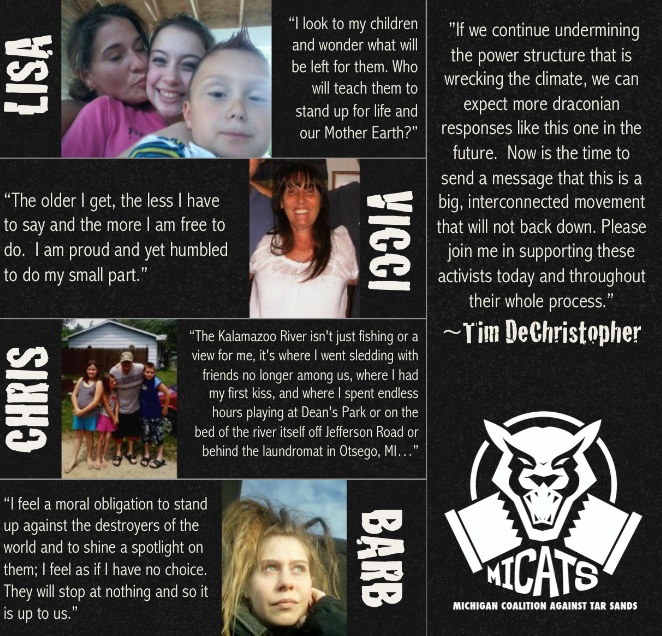 Michigan Coalition Against Tar Sands Defendants Move Cases Forward in Court
Four facing felony charges for actions against Enbridge state their intent to move their cases to trial
Mason, MI — Having witnessed the exhaustion of legal and regulatory avenues, this summer, Michigan Coalition Against Tar Sands (MI CATS) members took direct action to halt the expansion of Enbridge's Line 6B pipeline.  This is the same pipeline and company responsible for spilling over one million gallons of tar sands oil into the Kalamazoo River in 2010, an avoidable disaster that is still poisoning Kalamazoo community members.
Four of the MI CATS members arrested for their actions have been charged with "resisting and obstructing" felonies, a charge equivalent to that of assaulting a police officer in Michigan.  The defendants Vicci Hamlin, Chris Wahmhoff, Barbara Carter, and Lisa Leggio are choosing noncompliance with the state proven to be intimately connected with Enbridge, instead stating their intentions to take their cases to trial.  The steadfast conviction of these MI CATS members is evident through their willingness to risk the possibility of 2-3 years of jail time, a risk that is is not commonly embraced by activists taking similar action.
"I am willing to go to prison and proudly join others willing to do the same because everything suggests that this is the end of our environment if we continue," said Chris Wahmhoff in a recent statement.  "Martin Luther King Jr. once said, 'Our lives begin to end the day we become silent about things that matter.'  I would rather join so many others in prison then die in silence."
Vicci Hamlin expressed similar sentiments. "If we don't stand up against the fossil fuel industry, we won't have a future to pass on to our children and grandchildren.  We are running out of time.  As the urgency rises, so should we."
The uniqueness and boldness of these activists and this situation has caught the attention of nationally known activists like Tim DeChristopher who is calling on people to support them.  "Civil disobedience has recently been embraced by the mainstream of the climate movement, but these brave four in Michigan remind us that civil disobedience is about more than a photo op," Tim said in a recent letter. "In addition to being a tactic for putting pressure on those in power, when it is carried through all the way, civil disobedience is one our most powerful tools for education.  These four are fully committed and willing to sacrifice, and they need our support now."
Three of the four defendants will be seen in the Mason 30th Circuit Court today (341 S Jefferson, Mason, MI 48854).  Please visit www.michigancats.org for more information and to stay up-to-date as these cases unfold.