Update — Tuesday, 4pm — after spending probably about 6 hours waiting outside the jail and getting little to no reliable information throughout the day from the jail as to Duncan's processing status, Duncan was finally freed a little after 3pm! Throughout the day jail house employees and police officers repeatedly approached us asking us why we were staying outside of the jail for so long, and after repeatedly mentioning Duncan and asking about his status, they must've realized we weren't going to leave without him. 🙂
Like Dylan, Duncan was released without charges citing "pending investigation". So, there are no legal costs just yet. However, if you'd like to support MICATS in future legal expenses associated with Dylan and Duncan's arrests or in our organizing efforts generally, please donate! visit everribbon.com/micats
Update — Tuesday, 10am — Dylan and Duncan were both arrested by about 9:30am yesterday. Dylan was released by about 6pm with no bond or charges, having been told his charge is "pending investigation" (aka, we think, they don't quite know what to charge these protestors with). Duncan, on the other hand, is still in jail and we're working to get him out as soon as possible, probably sometime today.
Fox 2 in Detroit gave us some awesome coverage, with videos from action and interviews from cats. We like how they choose to call Enbridge's work on line 6b an "expansion" instead of repeating the Enbridge lie and calling it a replacement. Thanks Fox 2!
Also, check out the video of yesterday's pipeyard lockdown below! If a video isn't appearing below, try this one instead.
Check out some more pics from the protest and thereafter below! Thanks to Valerie Jean for most of these awesome photos.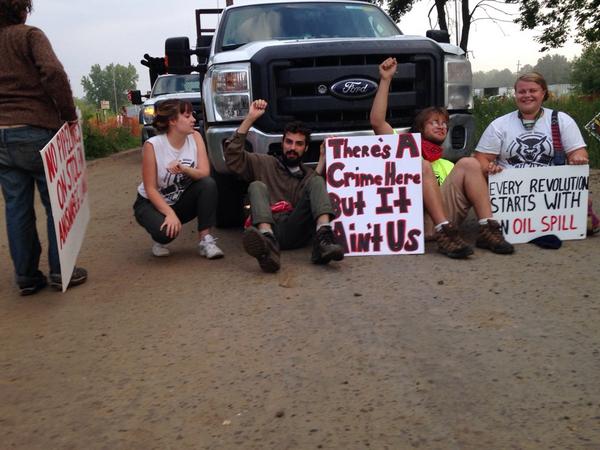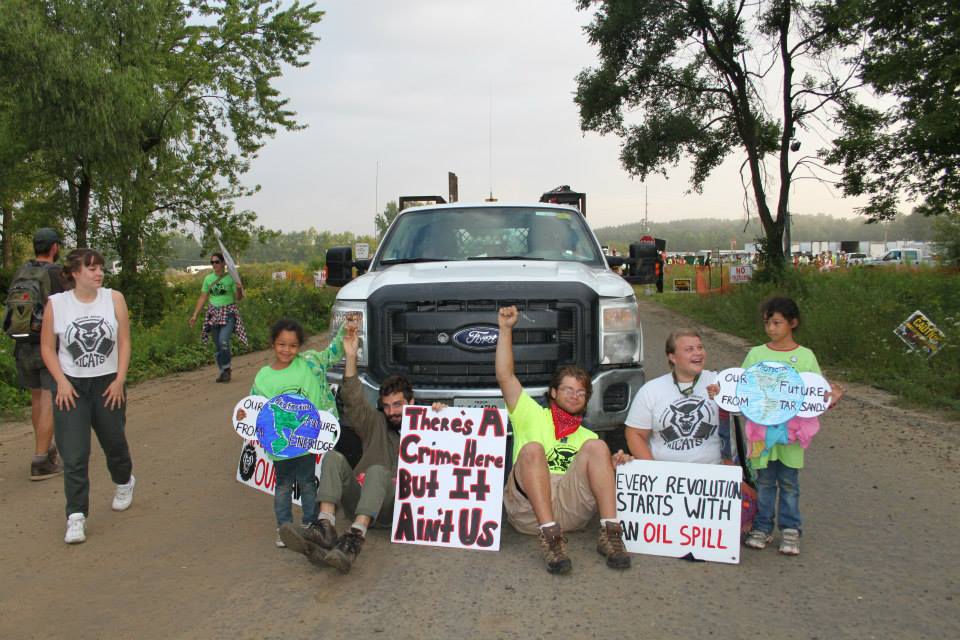 ***
Oxford, Michigan – Monday, August 25, 2014 – at about 7:30am this morning, two men locked their necks with bicycle U-locks to a pipeline construction truck, immobilizing it, as it was exiting a Precision pipeline storage yard at 3565 East Lakeville Road. This action has resulted in a back-up of trucks that have been blocked from exiting the pipe yard. At the time of this writing, there is a police presence around the two persons locked to the truck as well as dozens of other supporting protestors.
Precision Pipeline, who runs the pipeline storage facility, is hired by Enbridge to expand Line 6B. In 2010, Line 6B ruptured in Marshall, MI spilling over 1 million gallons of toxic tar sands and diluents into Talmadge Creek, impacting 40 miles of the Kalamazoo River. Four years later, Enbridge states that the Kalamazoo River is the cleanest it has ever been while dragging its feet in clean-up efforts. Simultaneously, Enbridge states that the river will never be completely clean, and has meanwhile been expeditiously expanding the 6B pipeline system to carry a higher capacity of tar sands oil.
Acting to disrupt Precision Pipeline, 20-year-old Duncan Tarr and 21-year-old Dylan Ochala-Gorka, both Michigan residents and organizers with a group called the Michigan Coalition Against Tar Sands (MICATS), demand a halt to Enbridge's expansion of line 6B as well as restitution for those still suffering from effects of the 2010 tar sands disaster.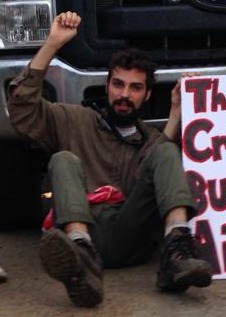 "At one time there were woods that no one owned. Now our planet has been bought up, torn apart, and exploited for the profit of a few," said Tarr. "My act of defiance is an act against this machine, meant to slow and halt its destruction, and protect the earth."
This is not the first time MICATS protestors have protested at this storage facility right-of-way. Last month, on July 24 2014 and in commemoration of the 4-year anniversary of the Kalamazoo tar sands disaster, about 20 protestors held signs, chanted and repeatedly crossed paths with vehicles entering and exiting the storage facility, and two protestors were arrested.
And neither is MICATS the only organization opposing Enbridge operations. Earlier this month, protestors under the banner "Dam Line 9" occupied a construction site for Enbridge Line 9 for a week, resulting in arrests and eviction. Line 9 is a natural gas pipeline which runs through Quebec and Ontario and connects with 6B at Sarnia, Ontario, and which is being reversed and adapted to pump tar sands oil.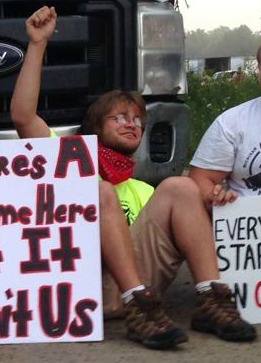 "It is those who profit from the exploitation of environment and people who need the healing and love the most," said Ochala-Gorka, a resident of Livonia, MI. "If putting my body between big oil and profits is necessary, I will continue to stand up between them and their meaningless money."
I am a steward of this earth. I strive to live in harmony with our mother, with the trees, the bees, the mountains, rivers, with the precious water. One love, all life is interconnected, all things related, we must love all things unconditionally. I can not stand by and allow people and our environment to be exploited. I ask our mother to grant me the energy to steward this planet, to preserve and conserve and to send the love to all. It's those who profit from the exploitation of environment and people who need the healing and love the most. If putting my body between big oil and profits is necessary, I will continue to stand up between them and their meaningless money. Love is the Answer.

We cannot rely on tar sands which are heavily dependent on cheap, fossil fuel energy to extract, refine and pump across thousands of watersheds risking complete contamination. Like the 2010 Kalamazoo spill. Water is life, water is all. No tar sands, no way!

–Dylan Ochala-Gorka
***
At one time in the world there were woods that no one owned. Now our planet has been bought up, torn apart, and exploited for the profit of a few individuals. My act of defiance is an act gainst the machine, meant to slow and halt its destruction, and protect the earth, and all life. Enbridge, and the pipelines they control, are a central part in the destruction of life. Their pipelines carry tar sands oil stolen from the first nation peoples through Turtle Island aka N. America to power the industries that are the vanguard of this destruction of life. Their spills, leaks, and presence in my area has caused the deaths of many humans and countless other creatures, trees, and plants. Let my act of defiance be a call to others, because this land that we are stnding on now is being killed. And we know exactly who the killers are. To end the destruction of life, in defense of all life, with the support of MICATS, from the woods of occupied Anishnabeg territory. –Duncan Tarr