The newly expanded BP Whiting Refinery, thanks to recent updates is responsible for refining 413,000 barrels of tar sands per day. On Monday, March 24th, the BP Refinery, spewed tar sands into Lake Michigan. A Whiting resident was travelling down 129th St near Indianapolis Blvd on Sunday March 23rd when she spotted a massive plume rising from the distillation tower. She suspected it may have been an explosion. The same "new and improved" refinery spilled an undetermined amount of tar sands into Lake Michigan yesterday afternoon. Sources are unclear on how much was spilled, but between 380-500 gallons are speculated. A resident believes the spill happened between 2 and 4:30 pm yesterday. When the EPA, Indiana Department of Environmental Management (IDEM), and the Coast Guard were informed of the spill, it took about 18 hours for the media to break the story the next morning; fishy…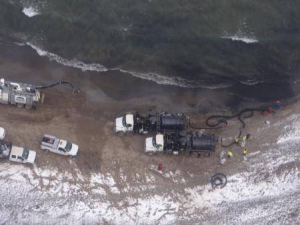 Based on preliminary information, BP believes that a wonky crude distillation unit sent crude oil into the refinery's cooling water outflow pipe and then spewed tar sands crude into lake Michigan. Lake Michigan provides 7 million people with drinking water and is unquantifiably valuable part of the Great Lakes bioregion.
While there has been no independent environmental impact study has thus far, the EPA claims "the spill presented no threat to human health or wildlife." There is no evidence cited for these claims. BP itself is unclear on the environmental impact. The EPA may have based this statement on the fact that sheen was no longer visible by 8:30 this morning. The presence of approximately 5,400 tar balls within a half mile of shoreline indicates that chemical dispersants may have been deployed, or were mixed in with the tar sands oil as a diluent. Chemical dispersants, or surfactants such as corexit are banned in the Great Lakes bio region and pose great danger to human and animal populations. Dispersants bind with crude oil, and cause oil to sink. The EPA continues to deny that chemical dispersants were used in the Kalamazoo River .
As always, question authority. Consider the implications that interacting with Lake Michigan could have on your health before swimming or surfing, at least until an independent scientific evaluation is done at the site and surrounding areas. This spill could have been significantly worse. Regardless of the severity, the recent malfunction highlights the inevitability of tar sands spills. The abrasive texture of tar sands oil, the lack of legitimate, viable regulation, the environmental racism, classism and colonialism, paired with the heinous pollution tar sands infrastructure wrecks on present and future generations are reason enough to halt tar sands refinement. The cost is too high.